Yeah, when searching for Business Computer Repair I'm sure you ran across a lot of computer repair shops.  Nationwide there are a lot of computer repair companies.  But guess what? There's only one Half Price Geeks!  Half Price Geeks has been in the computer repair business for over 16 years! Providing nationwide onsite and remote computer repair by local technicians. 
Half Price Geeks is a company that you can trust with your desktop computer repair needs. Check out our A+ Better Business Bureau rating. While you're at it take a look at our Yelp, Yahoo, Google and Sitejabber reviews.  Our skilled PC computer repair experts are available day and night to help with your business computer repair needs. 
Don't Have an IT Department?  Well guess what! You do now! Our team is experienced with handling multiple office locations, new office setups or moves, restaurant chains, satellite offices and corporate servers.  Half Price Geeks is an extension of your IT department!  Keep your IT costs down and prevent problems BEFORE they happen! Our team uses the latest managed services technology to provide the best local business IT support for your organization. 
Everyday it seems like there's a new computer virus or malware infection.  Half Price Geeks can help you get rid of that nasty virus.  We provide On-Site and Remote nationwide computer repair, supporting both PC and Apple Computers. Our Geeks can help with local virus removal, spyware, malware, trojan and rootkit infections.  Having issues with your Mac?  Our techs can work with most Apple computer repair issues including Mac Virus removal.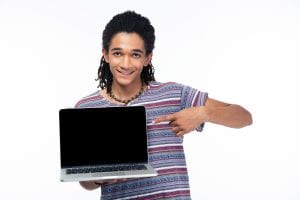 Don't Touch your computer! Our certified mobile computer repair techs will come to your home or office and fix your PC for you! If you can get on the internet then remote computer repair would be an option for you also.  Need data recovery?  Our data recovery experts can help recover your precious data and provide you with a custom data backup solution.
Business Computers Repaired
"They provide the best service! They are our go to for any IT issues. I recommend them 110%
"Very pleased with the quick turnaround!"
"Everything is terrific now, with no delays or spinning wheel of death"
"My Service Tech was a genius and efficient. thanks to him I am a Halfpricegeeks...geek."
"I have used Half Price Geeks for many years to solve and resolve any troubles I have with Apple and PC issues. I have been very satisfied every time. Outstanding service and personnel."
"Professional, personable, responsive, trustworthy, reliable, competent. I remain a loyal customer. I appreciate you all so much!"
"You all saved our business! Our server went down at one of our restaurants. A tech showed up in less than an hour and had us back up!"