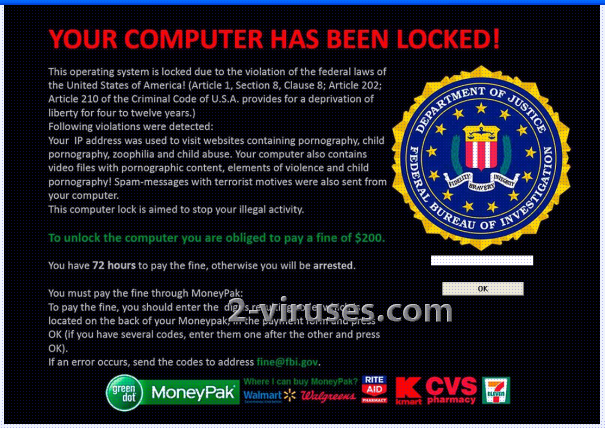 What Is The FBI Virus?
The FBI virus is ransomware, a form of malware that holds computer systems hostage while posing as the FBI and claim a fine must be paid using payment platforms such as Green Dot Moneypak and Ukash Vouchers.
In January 2012, Sean Doyle of Botcrawl.com discovered templates for variations for the United States and Canada, suggesting that its authors may have been planning to target users in North America.[27] By July 2012, a new variant of Reveton began to spread in the United States, claiming to require the payment of a $100 fine to the FBI using a MoneyPak card. (Source: Wikipedia)
Names and variants of FBI viruses:
Citadel Reveton
Urusay Virus
FBI Screen-lock
FBI Moneypak Virus
Green Dot Virus
Ultimate Game Card Virus
PayPal Virus
PaySafeCard Virus
Black Screen Of Death
REloadit Virus
Ukash Virus
FBI Virus Infection Process
A computer system becomes infected with the FBI virus, along side "Ransom Lock" Trojans used to "Lock" or block access to the computer system. This infection may have taken place from a website hosting malware, a drive by download website, spam emails, email attachments, allowing third party remote access, and more.
Once a computer system is infected with the FBI virus, the infetion displays a full screen claiming to be the FBI stating the computer system is locked for various reasons such as:
You have been violating Copyright and related rights Law (Video, Music,Software) and illegally using or distributing copyrighted content, thus infringing Article I, Section 8, clause 8, also known as the Copyright of the Criminal Code of United States of America. If it is PCEU Virus then this is thus infringing Article 128 of the criminal code of Great Britain.
The ransomware details that you have been viewing or distributing prohibited pornographic content (Child Pornography/Zoofilia). Thus violating article 202 of the Criminal Code of United States of America. Article 202 of the criminal provides for deprivation of liberty for two or twelve yours.
[small_button text="Schedule a Geek" title="Schedule a Greek" url="http://halfpricegeeks.com/?page_id=636/" align="right"]